My baby was born prematurely and was tube fed, how can I bring her to breasts?
Preterm is defined as babies born alive before 37 weeks of pregnancy are completed. Breastfeeding a baby who is born preterm can be challenging and difficult, but is attainable. We will focus on two parts of it.
Before Birthing
After Birthing
1. Before Birthing a preterm baby:
When a mother knows that she is going to birth a preterm baby, she can prepare beforehand. Antenatal expression of colostrum is a popular and useful method that is used in such cases. In this method, the mother can express colostrum and store it while pregnant under her medical caregiver's guidance and advice. It is important to seek medical guidance as hand expressing colostrum during pregnancy can potentially bring early labour.
2. Upon Birthing a preterm Baay 
Babies born before completing full term in the womb need extra care and are usually shifted to NICUs immediately after birth. The mother and the baby are often separated. Thus, it is important to express and send mother's milk for the baby.
2a. When mother and baby are separated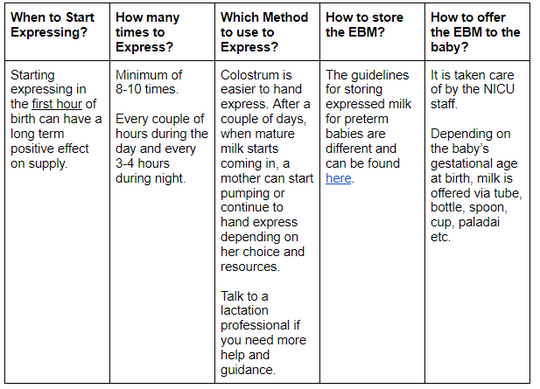 2b. When mother and baby can occasionally or regularly be united at the medical facility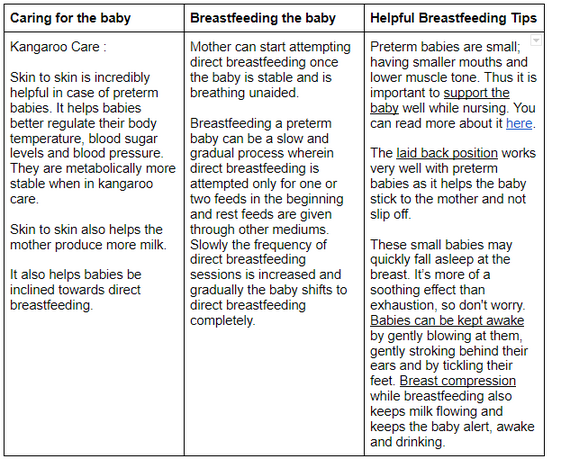 2c. When the baby can be taken home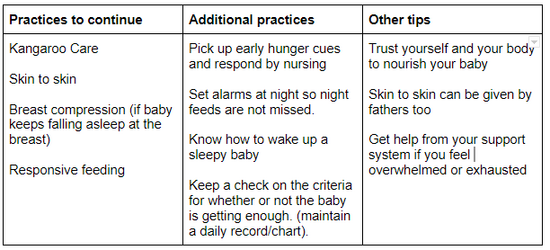 The Importance of Breastfeeding for a Preterm Baby :

Breast milk is an alive, responsive food. It changes as per the baby's needs. Thus, Milk that a mother will make for her preterm baby will be even more densely nutritious to help her baby strengthen and build her immunity and to provide the baby with the calories she needs to grow.
Breast milk is easy to digest and even with her immature digestive system, a preterm baby will be able to absorb maximum nutrients from the breast milk.
Breastfeeding can be a very important part of bonding with a small and fragile baby.
Risks that come with the consumption of formula can be limited and/or avoided by breastfeeding.
In the vulnerable population of preterm babies, breastfeeding contributes to decreased rates of late-onset sepsis, lower rates of metabolic syndrome, lower blood pressure and less insulin resistance as compared to babies given formula.
Breastfeeding is related to fewer re-hospitalizations in the first year of life.
Breastfeeding leads to improved neurodevelopmental outcomes
Breastfeeding can lower parental anxiety.
Myths about Preterm Babies and Breastfeeding:

Preterm babies below the gestational age of 34 weeks cannot latch. This is not always true. Some babies as small as 28 weeks of gestational age have successfully latched on to their mother's breast and many babies of 32 weeks of gestational age have shifted to direct breastfeeding completely. However, each baby is different and must be seen and treated differently.
All preterm babies must be given special 'preterm infant formula' for optimal growth.

 

If the mother is able to express enough milk for the baby, it is the perfect food for the baby. (Perhaps additional vitamin supplements might be needed which can be prescribed by the paediatrician).
Preterm babies, before they can latch, must learn to take bottles in order to learn how to suckle.

 

This is not true. The mechanism and muscles used for bottle and breast are different and when a baby prefers bottles, it is difficult to get her back to the breast.
Preterm babies get tired at the breast.

 

Babies (not just preterm) find it soothing to breastfeed. In some cases, when the milk flow is slow, the baby tends to fall asleep. But that's true for all babies. Preterm babies too can be kept awake at the breast by using breast compression during nursing and/or using a lactation aid (SNS)
References:
https://www.laleche.org.uk/successfully-breastfeeding-premature-baby/
https://www.canadianbreastfeedingfoundation.org/basics/premature_baby.shtml
https://www.who.int/news-room/fact-sheets/detail/preterm-birth
https://www.ncbi.nlm.nih.gov/pmc/articles/PMC3508468/
https://www.breastfeeding.asn.au/bf-info/premature
https://kellymom.com/ages/newborn/nb-challenges/preemie-links/